Agnese Azzarelli
A distanza di sette anni dall'operazione di Fendi che, per celebrare il novantesimo anniversario, così come i cinquant'anni di collaborazione con Karl Lagerfeld, scelse di riportare alla luce le marionette realizzate dall'artista zurighese Sophie Taeuber-Arp per Il Re cervo di Carlo Gozzi, forgiandone la collezione Fall/Winter 2015; Max Mara firma la collezione Fall/Winter 2022, inneggiando alla medesima artista.
Le operazioni, a ben vedere, sono di segno divergente, se non opposto.
Fendi sceglie la similitudine, sino a lambire l'uguale.
---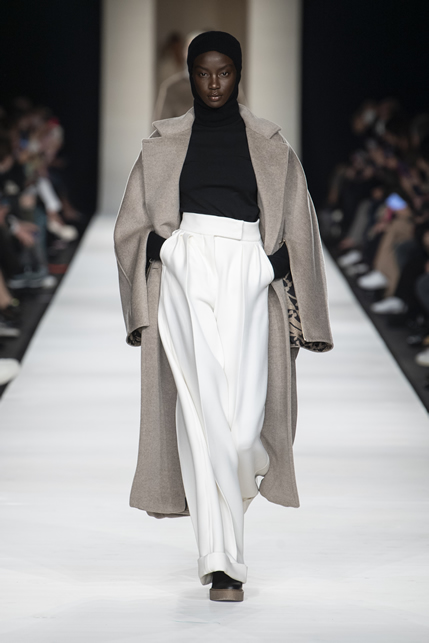 ---
Max Mara è all'apparenza monolite, fortezza inespugnabile. Non sono certo le ricorrenze del bianco, del bruno e del rosso ad accostare la collezione alle creazioni di Taeuber-Arp; così come – sebbene l'operazione di trarre ispirazione anche dagli indumenti coi quali l'artista si recava al Cabaret Voltaire desti interesse; tutto ciò non pare esaustivo nell'avanscoperta della F/W 2022.
---
---
Nell'avviso di chi scrive aggettivi come "magico" e "misterioso" non fanno che acuire più di un divario: apparente divario che intercorre tra la F/W 2022 e il portato di Sophie; divario che intercorre tra l'operazione e le parole per esprimerla.
Defezioni della lingua italiana?
Vero è che la maison, quasi edificasse un'elaborata analogia, si distacca da un pedissequo ossequio al dettato di Sophie, in questo confermando il suo essere fortezza inespugnabile.
---
---
L'interpretazione di Vanessa Friedman coglie elementi importanti, ma si distacca da quanto ancora potrebbe esser detto della F/W Max Mara:
«In an emerging-from-Covid world such garments might smack of comfort clothing and the cuddliness of home, but in a sanctions-and-shelling world — one where a guest clad in a little black dress toted a cardboard sign scrawled with the message "No War in Ukraine" — they seemed more like protective gear, shielding the bodies within». [1]
Modelle avvolte in cappotti di cachemire, calze lunghe e passamontagna rimandano, nell'avviso di Friedman, ad un mondo confortevole, ad un vissuto casalingo o – diversamente – alle protezioni, all'equipaggiamento necessario in una quotidianità segnata dal conflitto armato.

---
Rendere omaggio ad un'artista scomparsa?
Esibire comfort o protezione? Tra i due poli opposti ciò che traspare è una profonda interpretazione delle tendenze presenti, che restituisce alla creazione i suoi meccanismi non assoggettabili a qualsivoglia logica, mantenendo intatta l'eleganza e il rigore che contraddistinguono la maison.
---
[1] V. Friedman, Everything Looks Different Now. Crisis and fashion collide at Moschino and Prada, "The New York Times", https://www.nytimes.com/2022/02/25/style/prada-moschino-milan-fashion-week.html, URL consultato il 12/06/2022.